View the Virtual Showrooms.
 To view a sampling of his works, click on the category you are interested in:
Biography of Edwin Fulwider: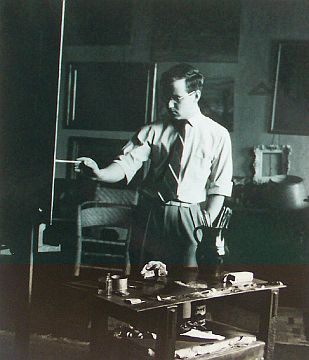 A painter, printmaker, educator and designer, Fulwider was born in Bloomington, Indiana. His art studies included the John Herron Art School (in Indianapolis) where he studied under Henrik Mayer, receiving a Bachelor of Fine Arts degree.

In 1933, Fulwider spent time with Thomas Hart Benton while Benton was working on a large mural for the Chicago World's Fair.
In 1936, Fulwider was awarded the Milliken Traveling Fellowship for travel and study abroad.
The following year, he visited England, Holland, Belgium, France, Switzerland and Italy.
In 1938, he moved to Nashville (in Brown County, Indiana), established a studio and devoted his entire time to painting and printmaking.
In 1939, he was invited to exhibit at the Golden Gate International Exposition in San Francisco. The exhibited painting ("Deadhead") was reproduced that year in Life Magazine.
In 1940, Fulwider accepted a position as an instructor of drawing, painting, and graphic art in the School of Fine Arts at Miami University in Oxford, Ohio.
During World War II, Fulwider was a supervisor of Technical publications at Wright-Patterson Field in Dayton, Ohio.
He taught at the John Herron Art School (1945-47) and at the Cornish School in Seattle (1945-49).
From 1949 to 1973, Fulwider was Professor of the Art Department at Miami University (Oxford, Ohio), serving as Chairman of the Department from 1963 to 1968, retiring from Miami University in 1973.
While living for many years in the Northwest, he painted industrial images, landscapes and railroad scenes in Idaho, Washington and Oregon. He retired to the Pacific Northwest and spent his later years in Arizona.

Fulwider was the recipient of 22 awards. He exhibited at the Butler Art Institute, Art Institute of Chicago, John Herron Art Museum, Carnegie Institute, Cincinnati Art Museum, Dayton Art Museum, Indiana University, Seattle Museum of Art, the Hoosier Salon, Albrecht-Kemper Museum of Art, Speed Art Museum and many other professional venues. His works are included in numerous museums and corporate art collections.
To view a sampling of his works, click on the category you are interested in:

prints, paintings, or watercolors (and drawings).
Additionally,
"The Graphic Works of Edwin Fulwider, A Catalogue Raisonné of His Prints"
can now be ordered from Covington Fine Arts Gallery. Details here.
A courtesy copy will accompany the purchase
of any of Fulwider's prints.
View the Special Collections.